Old Town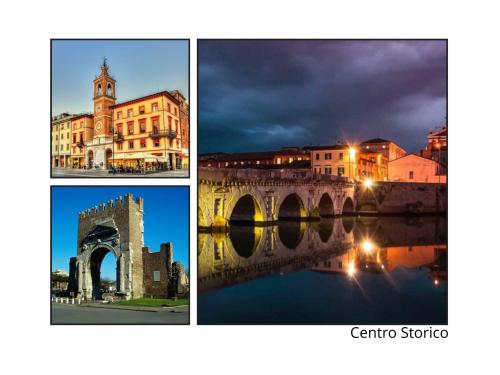 Throughout the year a stay in Rimini is synonymous with fun and culture.
Its art treasures contemplate unique masterpieces ranging from the Roman period to the Renaissance period.
A place to know following the imposing and suggestive traces left by twenty centuries of history such as the
Arch of Augustus
, the
Tiberius Bridge
,
Castel Sismondo
, the
Malatesta Temple
, the Roman Piazza Tre Martiri or the medieval Piazza Cavour, to end with the
city ​​museum
.
Borgo San Giuliano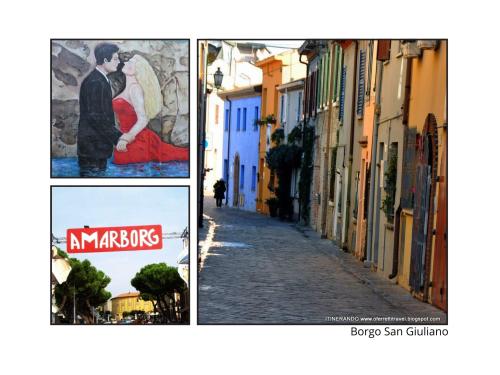 Borgo San Giuliano stands on the banks of the river Marecchia, leaving behind the historic center and beyond the famous Tiberius Bridge. The village has always been considered a treasure of the area thanks to the presence of artistic works.
Walking through the streets of the village we can admire the murals inspired by the characters of the village and the film of the great director reminiscent Federico Felini .
Borgo San Giuliano is the territory that becomes art, it is the city that becomes a book and history, a territory that meets culture and expresses it in a simple but effective way.
San Leo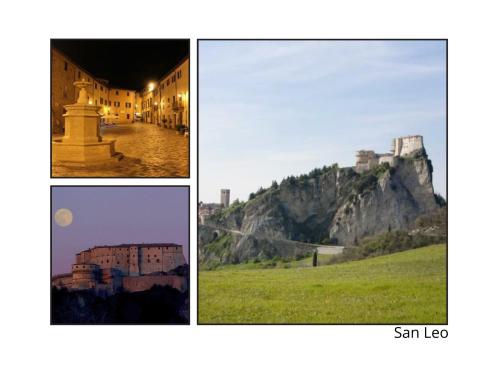 A strategic place for the historical and military events of the Middle Ages and the Renaissance, known for its historical and geopolitical events, location for films and documentaries, a tourist destination of excellence, is the precious pearl guarded by the province of Rimini. Listed as one of the "Most Beautiful Villages of Italy", the marvelous
old town
unleashes its charm at any time of the year.
There are numerous Renaissance palaces, such as the Palazzo Mediceo, with the elegant Museum of Sacred Art, the residence of the Counts Severini-Nardini, the Palazzo Della Rovere.
From San Leo you can enjoy a magnificent view of the surrounding mountains, along the Marecchia valley, down to the sea.
Santarcangelo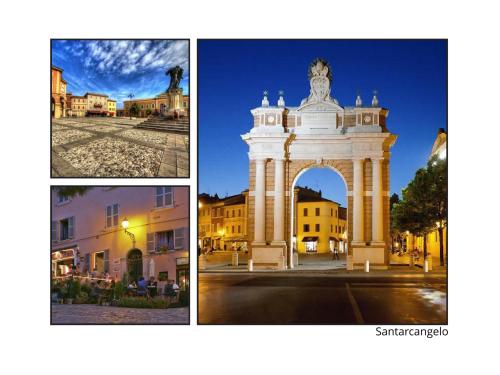 Santarcangelo is a medieval center that boasts ancient origins, in
1984 it is recognized as a City of Art.
It is located in the heart of Romagna and here, as you eat and drink, are important topics!
We find an inn that, in addition to culinary delicacies, also deep "cultural flavors", is La Sangiovesa . Another restaurant considered one of the best in the Rimini hinterland is '' Ristorante Lazaroun '', located in a charming corner of the historic center of the ancient Santarcangelo di Romagna.
A wave of Relax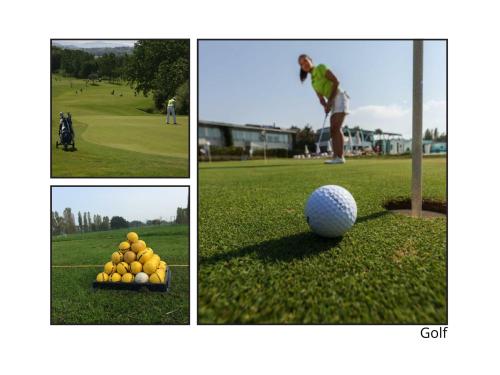 Rimini Verucchio Golf
The spectacular 18-hole golf course, par 72, of the Rimini Verucchio Golf Club was founded in 1995 among the fragrant vines of the hills of Valmarecchia and its historic medieval villages. A few kilometers from Rimini, it enjoys an enchanting view of San Marino and Mount Carpegna.
Riviera Golf Riviera Golf, located inside the Conca wildlife oasis , is the ideal place to practice sport, relax and enjoy the pleasures that the area offers during a holiday in the sign of well-being.